Brand Strategy
Logo Design
Photo Direction
Web Design
Digital Products
Social Media

Wholistic nutritionist Elena Skroznikova came to us to help her launch a new health coaching business Sweet Science. Her mission is to help people in recovery from addiction heal their bodies and live healthier and happier lives. We assisted Elena in developing a brand strategy, creating a strong brand system and a website that would represent the essence of her business. By putting extra effort into building Sweet Science brand, we helped Elena make a personal connection with her ideal audience who are seeking an alternative approach to a healthy recovery and total wellbeing.
VIEW WEBSITE
RESEARCH & Brand Strategy

In order to help Elena establish her brand, we began by getting acquainted with the personal coaching industry, reviewing her competitors and learning about Elena's unique set of skills. It was important to fully understand Sweet Science's mission and outline clear business goals in order to know what success was going to look like. After we had a good understanding of her business we dove deeper into learning about her, her ideal clients and their needs. Who would benefit the most from her unique set of skills and services? What problems and needs do they have? How can Sweet Science solve those needs? How will people discover about Sweet Science and what will compel them to become a client?

By taking the time to work closely with Elena, and understand her, her business and her clients we were able to set a clear roadmap and a strong visual direction to begin the creative process.
Logo Design Process

Based on the information we gathered during our research we put together a number of style boards (visual mood boards). We sourced unique style directions, colors, fonts and images to better define Sweet Science's vision. This part allowed us to involve the client in the creative process and help them envision what thier brand might look like. Using selected "Citrus peel" direction as the guide we designed a fully custom Sweet Science logo. The customised font has a perfect balance of soft, jucy shapes pared with thin refined lines making the logo aproachable and friendly yet modern and confident. The "S" in Sweet is meant to look like a peel of a fruit, reinforcing the idea of self discovery and transformation in the recovery process. It also represents the nutrition aspect of Sweet Science, reminding us that sweetness comes in many forms.

This concept allowed us to add just enough playful elements like scattered fruit bits while providing important content in a soothing and nurturing atmosphere. The final logo was applied to business cards, stationery, digital product templates, and other collateral. In addition to the main logo and brand colors Suva created a unique set of icon illustrations for Sweet Science 5 elements: Eating, Sleeping, Breathing, Meditating and Moving.
Digital Product & Email Automation

Online marketing has changed over the last few years. People have become more selective about giving out their emails unless they are getting something of value for them in return. In order to entice visitors to sign up for a mailing list, we worked with Elena to design a worthy free resource as a gift. In order to make the delivery process easy to manage, we used MailChimp's Automation feature to design a personalized welcome email. The final email included the link to the PDF download as well as a personal note from Elena and was set to be sent automatically. Sign up at sweetsci.com for your free copy.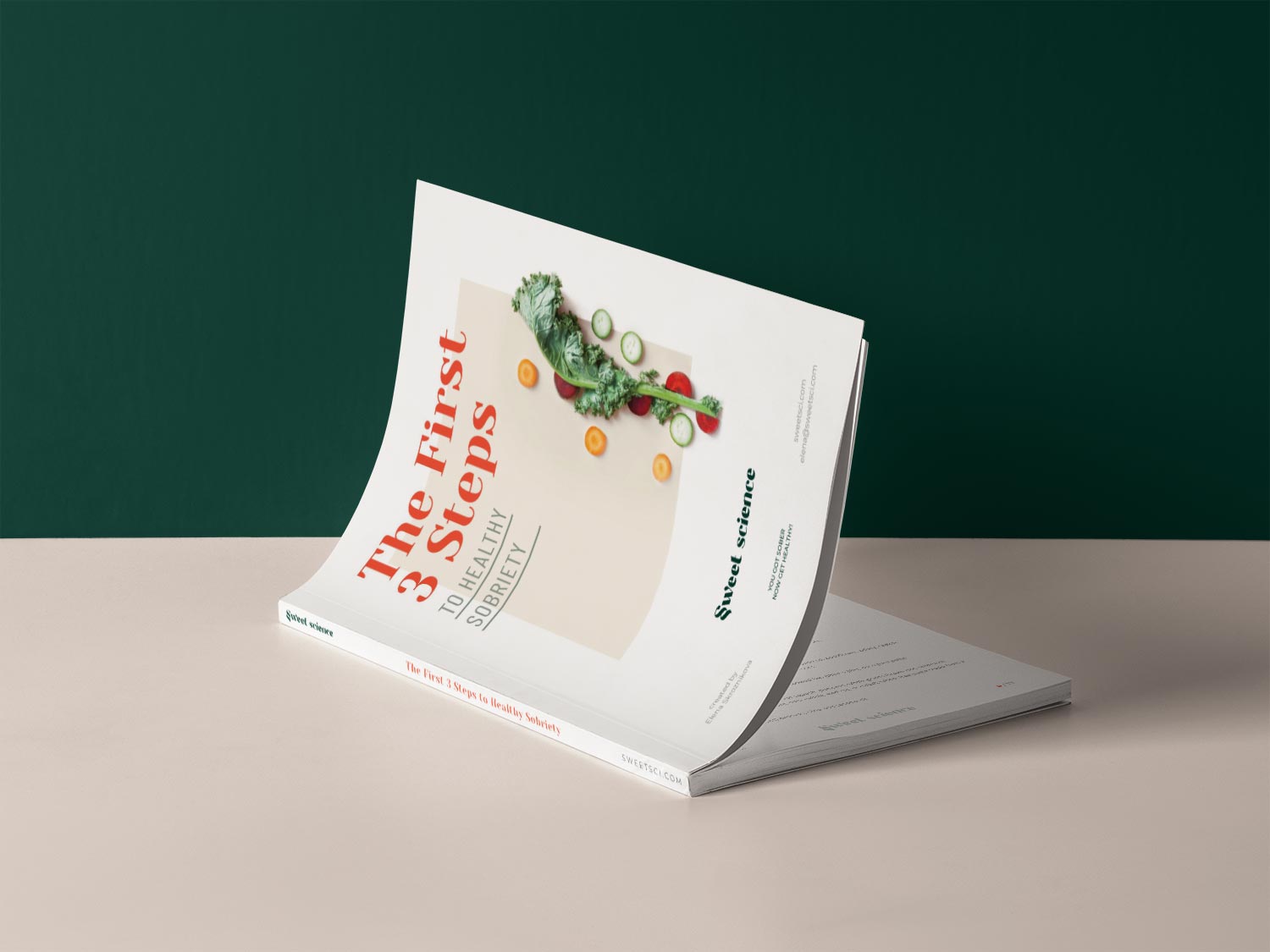 Photo Direction

Professional photography plays an essential role in making sure that the branding stays consistent and matches the expert level of the services that the business provides. Besides getting a great portrait of Elena, the goal of the shoot was to get a content library with a good variety of images which will be used for the Sweet Science website and social media. We helped source the photographer and provided mood boards, location, props and wardrobe suggestions and a shot list of all the images we needed. Jennifer Michelson was the selected photographer who was able to capture beautiful images of Elena using our directions and visual guides. Selected images were used for all marketing and promotional materials and are very valuable assets.
Web Design

For Sweet Science's website we created an online user-experience that really feels as exciting as getting to know Elena in person. The website had to be inviting, easy to navigate and provide all the information needed to establish a personal connection with the viewer. Each page was carefully designed to embody the core essence of the Sweet Science brand. It's very personal, honest, welcoming and fun. It allows the viewer to get to know Elena, establish trust, build a relationship and be confident in her ability to help them solve their unique challenges. Each section has a specific purpose and uses a strategic sales funnel that guides the viewer on a particular journey that leads to the desired conversion goal. We not only created a unique, fully custom-build website for Sweet Science, but we also created a powerful sales tool that helps Elena reach her customers and grow her business.

In addition to setting up a fully functioning site with all the content, we privided a custom video tutorial showing Elena how to edit or add any new content for her unique set up. It's important that our clients feel in control of their site. We make it easy and fun for them to learn how.
Social Media Profile Design

In order to build Sweet Science's brand awareness and reach new clients, we helped set up two key social media accounts, Instagram and Pinterest. We outlined a monthly schedule and a list of useful post topics that would be of value to Sweet Science clients. It was important to not just promote the business but provide helpful and inspirational content. By designing custom post grids and templates we maintained cohesive branding across both platforms.